Teen-to-Teen Connection Sponsored by WCUMC Refugee Initiative
Summer, 2021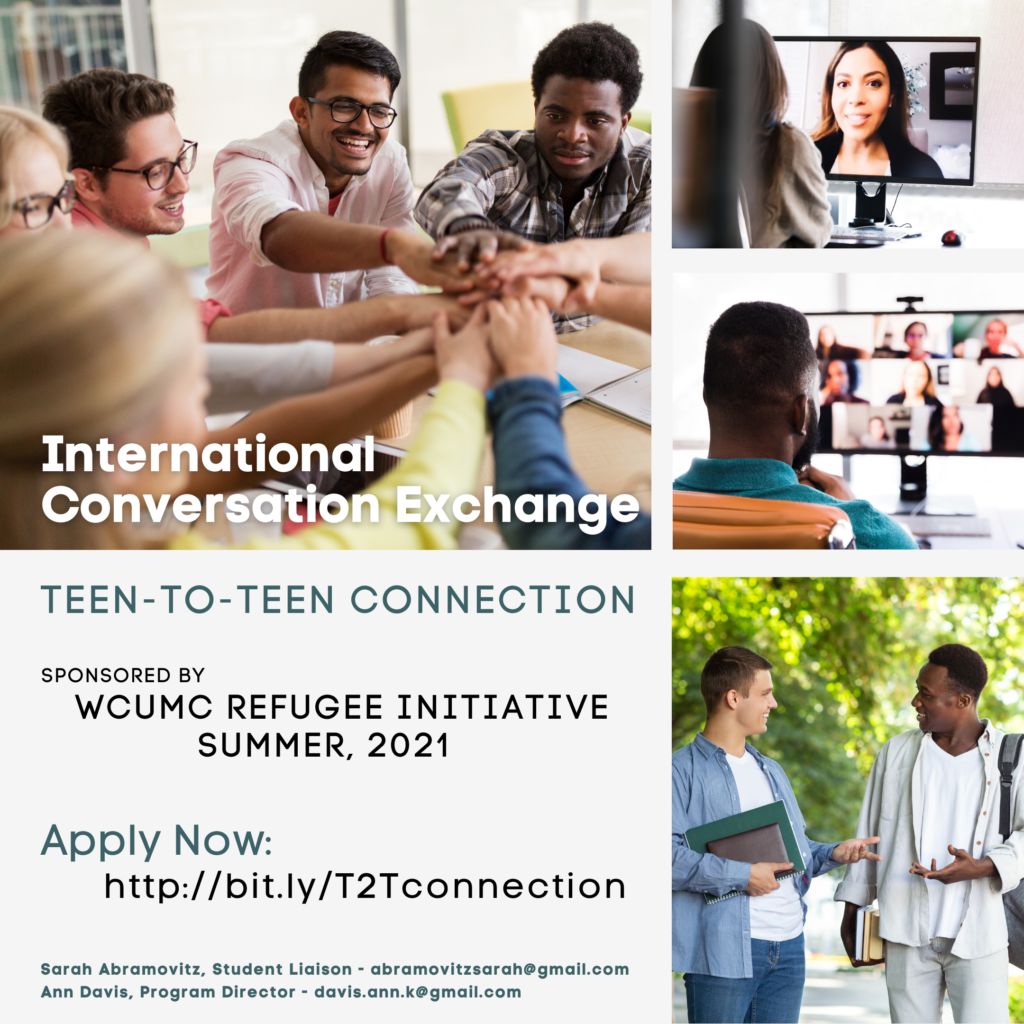 AMERICAN-BORN STUDENTS
How would you like to talk with an international high schooler who's come to America and has questions only another teen can answer?
How would you like to share your insights on American culture – and hear theirs about their home country AND OURS?!!
BUILD A CONNECTION THAT'S GLOBAL!
INTERNATIONAL STUDENTS, REFUGEES, EMIGREES
Are you an international high schooler with questions you'd like to ask a U.S. teen?
What if you could share your own story – and your thoughts on life in the U.S.?!
What if American teens want to learn as much from you as you do from them?
COME CONNECT WITH US STARTING JUNE 19th!
Join the global story.
Hear chapters you didn't know existed.
Be a leader who can both learn and share knowledge.
See for yourself how conversation can connect across all divides.
Become the kind of person universities, businesses, and nations rely on.
PROGRAM DESCRIPTION
All students MUST complete and submit a brief application. See form on QR code.
Selected students will Zoom into a pre-exchange training session with experts in the language that connects across backgrounds and perspectives.
American high school students will be paired with a local refugee or other internationateen for a weekly one-on-one phone conversation.
Periodic zoom meetings will allow students to discuss insights stemming from their exchanges – and to explore further ways to create conversations that connect.
Program director will maintain contact with students but will not participate in students' one-on-one conversations.
Students will have uninterrupted access to directors and counselors for any requests, questions, or suggestions they may wish to share.
WHY GET INVOLVED?
Get to know other cultures' traditions, philosophies, and hopes for the future.
Re-discover your own perspectives by describing them to others.
Universities are searching for students who have invested themselves in global experience and service. Develop the life skills you need and they'll recognize.
Hours in training and conversation earn Community Service Hours.
QUESTIONS? IDEAS?
Contact:
Sarah Abramovitz, Student Liaison
abramovitzsarah@gmail.com
Ann Davis, Program Director
davis.ann.k@gmail.com